Leslie Tardy
Author works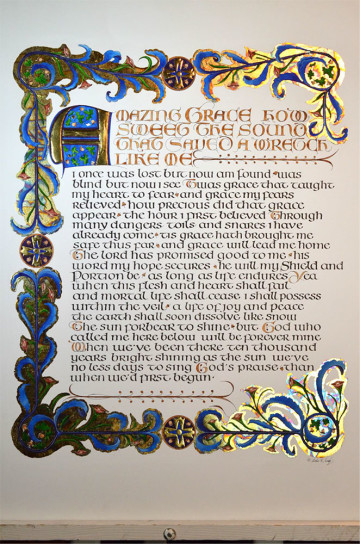 Amazing Grace
Original on Arches Hot Press Paper. Lettering are Uncial Letters implemented with a Mitchel nib and Sumi Ink. Border Illustration and Versal "A" was rendered with Gouache, 23K Gilded and Burnished Gold Leaf and Verigated Mixed Metal Gold.
129×161 cm.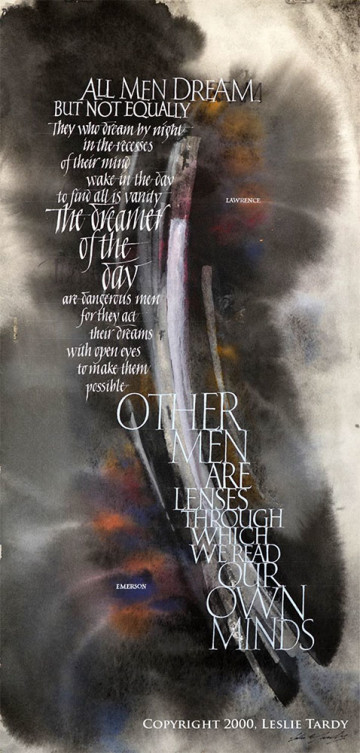 All Men Dream
Оriginal art on Arches Hot Press Paper. The background was created with watercolors and a ruling pen. Italic and roman letters were written with white Gouache and a Mitchell nib.
87,1×112,9 cm.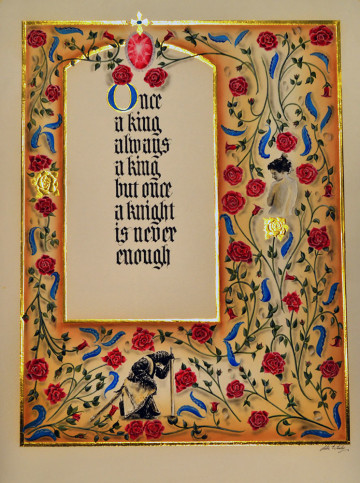 King
Оriginal Canson cold press paper. The lettering was done with a Mitchell nib and Sumi Ink. The border, cross and roses are 23k gilded and burnished gold leaf. The roses and floral was painted in acrylics. The upper gem was airbrushed with Dr.Martens Brilliant Hydrous Watercolor. The border background and shadows were also rendered with an airbrush and gouache. 45.72×50.8 cm
Biography

The artist devoted to calligraphy all his life. Since 1974, he studied calligraphy at Monsignor John R. Hackett High School in Kalamaz, Michigan. Worked on individual sketches, creating paintings and interior items for private collections, as well as participated in painting art galleries, concert and music venues. A few of his past client work included: RCA / BMG Music, Faith Hill & Tim McGraw, Dillards, Macy's and Methodist, Nashville's music marketplace, Tennessee.
In 2009, he graduated from the Central University of Missouri and in 2013 received a master's degree in "Occupational Safety Management". He also has a Barchelor of Science degree in Graphic Arts Technology Management.
From 1989 to the present, Leslie Tardy is a regular participant in exhibitions and arts festivals, and regularly published in various. Over the shoulders of the master 35 years of calligraphic diligence, magnificent works, which are stored in private collections, museums and galleries in the US and abroad.
Exhibitions:
1989 Centennial Park, Nashville, TN.
1990 Parthenon, Nashville, Tennessee.
1996-2000 Franklin Main Street Festivals.
2003 – Centennial Art Exhibition through the Nashville Guild of Calligraphers.
1997, 1998, 1999 Brentwood United Methodist Church (Private Gallery).
1995 Howard Allen Events, Art Festivals: Tampa, Florida and Boca Festival of the Arts, Boca Raton, Florida.
2001 Pioneer Music and Art Festival, Winfield, KS.
Nelson Atkins Museum of Art, Saint Joseph, Missouri 2005. Sugar Plum Festival.
John Knox, John Knox Pavilion/Christmas Art and Craft Festival, Lees Summit, Missouri.
2013 Renaissance Art Festival/Bonner Springs, KS.
Kristkindl Market Art Festival, Hermann, Missouri (2017).
2013-2017 Heritage Days Art Festival, Warsaw, Missouri.