Shin Hong Yang
Author works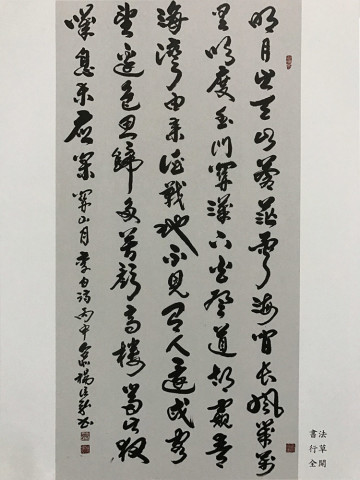 Li Bai's poem "Moon Over Mountain Pass"
Style: Caoshu
Tools: Xuan paper, ink, seal
Dimensions: 135x99 cm
Year of creation: 2018
Calligraphy is a way to discover the artist's mindset and character. The modern definition of calligraphy is "an art in which individual symbols are in agreement and harmony, expressive, and written in a masterly manner". "Calligraphy is an aesthetic process limited by three dimensions: person, time, and place, namely by the artist's skills, the materials used, and the propagation speed".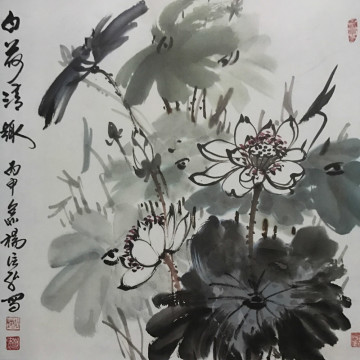 Delicate fragrance of white lotus
Style: Guohua
Tools: Xuan paper, ink, seal, pigment
Dimensions: 60x60 cm
Year of creation: 2018
Monochrome, or Chinese ink-and-water, painting is the main style, or genre, of Chinese painting, which is more narrowly referred to as guohua, or traditional Chinese painting. The style is currently practiced in many regions of Asia. The most basic of monochrome paintings are created with merely water and ink, using the black and white tonality. However, more recent forms of Chinese monochromatic ink painting include the birds-and-flowers genre in gongbi ("fine brush") style as well as polychromatic painting, which may loosely be termed "color ink painting". The main features of monochromatic paintings are as follows: realistic scenes are placed in the foreground, while the background should remain abstract; monotonous colors and rich artistic conception.
Biography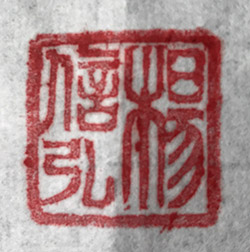 Yang Shin Hong was born on August 27, 1948, and works in arts, design, sculpture, advertising, etc. He began to paint as a child. First an amateur, he has become a professional calligrapher with over 50 years of experience. He never stops learning.
Yang Shin Hong specializes in watercolor, xingshu style, Chinese color ink painting. He participates in various art and literature activities and group exhibitions, organizes themed solo exhibitions, national and international exchange exhibitions. His works have been displayed at exhibitions in Shanghai, Tianjin, the National Sun Yat-sen Memorial Hall in Taipei, the Museum of World History, as well as in art centers and galleries in different cities and counties. In total, he has taken part in more than 40 exhibitions. His works have been widely praised by the jury and received numerous awards.
In his art, Yang Shin Hong has always strived for perfection. For him, it has been a long journey, during which he has traveled all across China and has visited the Himalayas, Nepal, Xinjian. He has seen snow-covered mountains, deserts and steppes, areas rich with water bodies, and centuries-old houses. He portrays wrecked villages, small towns, ports, marine scenes, people, animals, flowers, etc. His works are stunningly beautiful, but it is better to see his meticulously crafted paintings once than to hear about them a thousand times.
He currently holds the post of a cultural consultant. He is member of the Xindian District Council (New Taipei City), member of the supervisory board of the Taiwan International Watercolor Association and the Taiwan Interdisciplinary Scientific Society. He is an expert consultant for the Taiwan Committee of the Japanese Calligraphy Association, consultant for the Taiwan Cross-Strait Cultural and Art Exchange Association; as an artist, he participates in cross-strait interaction and exchange activities; a former professor of calligraphy and painting at the Social University of Taiwan, Sanchong district.
Awards
The Kaohsiung Mayor's Award, the International Art Award at the All-Japan Exhibition in category "Calligraphy"; the Japanese International Calligraphy and Painting Prize.