Chen Forng Shean
Biography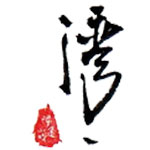 Chen Forng Shean creates sculptures, but not ordinary sculptures, many of his creations cannot be seen without a high resolution microscope. Chen can engrave a poem on a string of dental floss, paint a portrait on a watermelon seed shell, as well as engrave on the wings of a fly, a sesame seed, or a grain of sand.
Deep in the heart of Ankang, Xindian District, New Taipei City, the world-renowned micro-carver Chen goes about his work silently. Each and every one of his artistic creations is breathtaking, to the degree that they have to be seen to be believed. Chen uses a variety of materials in his work such as: paper, wood, bamboo, cotton, stone, sand, metal, as well as household articles: dental floss, toothpicks, toothbrushes, grains of rice, matches, noodles, threads, eggs, and watermelon seeds. Chen has even carved on ant heads and wings of flies and dragonflies.
Chen first became interested in micro-carving after learning that, in ancient times, Chinese students took miniature books with them to cheat in the imperial examination. The books the students used to crib were approximately 10 centimeters in width. Not to be outdone, Chen went ahead and engraved a miniature book that was 0.08 centimeters in width.
Chen has several miniature books in his collection, each of which took about two years to complete. Among Chen′s works: the 75-page, 10,000-word "300 Tang Poems" weighs only 0.35 gram with a 0.9 centimeters length and width; the popular Japanese children′s story of "The Peach Boy" contains the full text of the story written in Japanese and weighs 0.43 grams and; the 56-page "Snow White" is engraved in English and weighs 0.6 grams with each letter of the alphabet measuring only 0.3 millimeters.
Appropriate utensils are important to his work, says Chen. He uses the tip of a Chinese writing brush (almost a hair) to write on softer materials and a steel needle to engrave on harder materials. a high-resolution magnifier is indispensable as well. Chen′s favorite tool is a Chinese calligraphy brush called "haomang". The Chinese characters "hao" and "mang" which mean "a diminutive hair" aptly describe the proportions and fragility of the brush.
Born in 1956, Chen worked for many years in the plate-making subsection of the Central Engraving and Printing Plant (CEPP), and has been an avid painter since he was a child. Using the steel needles and high-resolution magnifiers that he was used to working with everyday in plate-making, Chen originally started micro-carving as a hobby in his leisure time. His first work "Portrait of Birds and "Flowers" was a Chinese painting engraved with steel needles on a coin.
In 1997, Chen established a private museum of micro-carving to promote the art he has been working on for over twenty years and help visitors appreciate the 3,000 year old art. Among Chen′s collection, which consists of over one-hundred items, the "300 Tang Poems" is his personal favorite. the "Resin" series has, however, proved to be among his most popular works and is often sought after for public exhibitions.
It took Chen a solid fundamental background in the fine arts to prepare himself for the creation of micro-calligraphy. Chen has been good at calligraphy since junior high school and has never stopped practicing. His hard work and experience provided him with the basics to get started with his miniature creations. In addition to his extensive fine arts background, Qigong, a regimen of deep breathing exercises often practiced in Taiwan for health and longevity, as well as patience, are important for his creation, says Chen. In order to make a fine carving on a piece of material such as a tiny grain of sand, Chen must control his breath to keep his hands from trembling. A micro-carving artist is required to hold his breath for over a minute, and control every muscle to keep his hands from trembling during creation. If too much pressure is applied on a grain of rice, a sesame seed or a grain of sand, it will either split or fall to the ground. To reduce errors, Chen mastered several breathing techniques such as adjusting the rhythm of his breath. He also consciously developed his body balance.
Compared with other art forms, micro-carving requires more physical and mental stability, says Chen.
Chen has numerous anecdotes about his work. He recalls that he once tried to carve the portraits of former U.S. president Bill Clinton and Monica Lewinsky on a match. He succeeded eventually but not before breaking over two-hundred matches. Of his insect materials, Chen says ants are the most difficult to handle because of their body oil, which takes a full day to get rid of with alcohol.
Chen also uses eggshells for his carving. While most artists carve on the surface of an egg, in one of his works Chen chiselled a large Chinese character "kong" (which means "empty" in Chinese) on an eggshell with a steel needle before forming two-hundred and sixty miniature "kongs" written with a hand-made micro writing brush. For this creation, Chen said with a smile, he used hundreds of eggs and his family was forced to eat eggs at every meal for a considerable period of time. Micro-calligraphy on noodles is another one of Chen′s achievements. Before embarking on his "noodle calligraphy" Chen says he studied the hardness of all kinds of noodles as well as their propensity to rot.
Chen recounts humorously how on a couple of occasions a grain of sand he was working on was accidentally lost. With extraordinary patience and determination, he finally developed a method to fix sand grains with double-sided adhesive tape.
Chen has a lot of other achievements and successful projects.
He currently holds four titles, one of which is the Guinness World Records for his five character quatrain micro-engraving on a sesame seed.