Savaş Çevik
Author works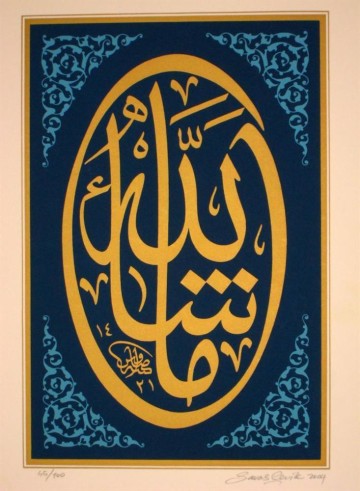 Whatever God wills Jali (bold) Thuluth Script
Hand-made paper, Otoman İnk, illuminated with gold, 28x38 cm, 2001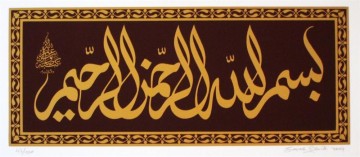 In the Name of God, Most Gracious, Most Merciful
Hand-made paper, Otoman color ink, natural materials, pens, 55x90 cm, 2005
Biography

He was born in Akseki (Antalya) in 1953. In 1976, he got a Master degree from the School of Graphic Art, National Academy of Visual Arts. In the same year, he started to work in that university as assistant to Professor Emmin Barin. In 1993, he defended his candidate thesis on Roman letters. Four years later, he got the title of Associate Professor and specialized in font design.
Thanks to the help of such eminent calligraphers as Kemal Batanay and Hâmit Aytaç, he started his study of calligraphy in 1973 by writing in rik`a, talik, sülüs and nesih scripts. He continued his study until the death of his lecturers. Following that, he started studying dîvanî and celî dîvanî styles with Professor Ali Alpaslan. Meanwhile, he found opportunity to improve his knowledge in calligraphy by studying under Prof. Emmin Barın and calligraphy specialist Prof. Uğur Derman. In 1986, he was awarded the first prize at the International Hâmit Aytaç Calligraphy Competition organized by Islam History, Art&Culture Research Center (IRCICA).
Today, he has approximately thirty prizes won in various competitions both in Turkey and abroad.
His works can be found in various collections both in Turkey and abroad.
Apart from dealing with classical calligraphy writing, the artist also developed a unique calligraphy writing style. He continues his work in various fields such as giving calligraphy courses and preparing calligraphy publications.
The artist organized twenty-two solo exhibitions and participated in fifty group exhibitions so far. He continues his work in his own studio.
Having voluntarily retired in 2002, the artist currently lives in Istanbul. In 2004, he worked on the foundation of the Graphic Arts Department at Haliç University, and is now a member of the faculty there. In addition, he began to teach at the Graphic Arts Department of Doğuş University in 2005, as well as continued to work on calligraphy (both Arabic lettering and Roman letters) in his private studio in Istanbul.