Natalia Lotareva
Biography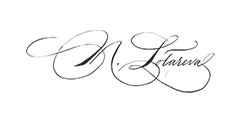 Born in 1983, in Sverdlovsk.
Graduated from Shadr Art School in Yekaterinburg in 2003.
Graduated from Repin Institute of Art, Sculpture and Architecture book illustrations school, supervised by professor A. Pakhomov in 2013.
Student in Saint-Petersburg Calligraphy School since 2009.
Member of the Russian Union of Artists since 2015.
Natalya focuses on watercolours and traditional printing techniques – copperplate engravings, lithography, and also creates handwritten books as a calligraphy artist.
Her works have been showcased in numerous national and international exhibitions and graphics biennale, including the following:
The Word Materialized, International Exhibition of Calligraphy in the Russian National Library in Saint-Petersburg, 2013
The Image and The Letter, International exhibition of calligraphy in Saint-Petersburg, Tallinn, 2014
I Baltic Book Biennale, Saint-Petersburg, 2014
White Inter-Nights II Graphics Triennial, the Union of Artists of Saint-Petersburg, 2014
VII International Exhibition of Printmaking, Rokycany, Czech Republic, 2014
V International Exhibition of Calligraphy, Moscow, Sokolniki, 2015
Fabriano-Aquarello 2016 international exhibition in Fabriano, Italy
The 36 Stratagems. The Ancient Chinese Essay exhibition, the State Hermitage Museum, 2016
Natalya's works are exhibited in the following locations:
the State Hermitage Museum (handwritten book),
the Russian National Library,
The Scientific and Research Museum of the Russian Academy of Arts,
The Contemporary Museum of Calligraphy (Moscow),
The Silesian Library (Katowice, Poland),
Boguslaw Gorak Museum (Rokycany, Czech Republic),
and in private collections.