Luo Lei
Biography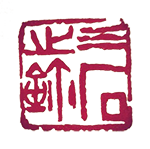 Luo Lei was born in 1969 in Gansu (China). He started his calligraphy journey at 13, learning from one of the most renowned contemporary professionals, Yang Hong. Luo Lei spent many years doing calligraphy, painstakingly studying and copying veteran maîtres, absorbing the images of the ancient culture, thus creating a unique and original style.
Between 1988 and 1995 he was teaching calligraphy in China, and then moved to Russia. Currently he lives and works in Saint Petersburg.
Luo Lei took part in publishing the Russian translation of Qian Cai's "The Story of Yue Fei".
In 2015 his artworks were exhibited in the Union of Artists' halls in Saint Petersburg. Luo Lei also took part in the exhibitions named The Dreams About China and The Chinese Army, and in the presentation of 36 Stratagems book in the Hermitage Museum with his works published by The Rare Book from Saint Petersburg publishing house. Some paintings are kept in private collections in China, Russia and other countries.
Luo Lei held workshops as a part of the Chinese New Year city project, organized under the auspices of the government of Saint Petersburg and the Consulate General of the People's Republic of China. In March 2017 he together with artist and art expert Oxana Khukhrina founded a Chinese calligraphy school.