Nina Marcovic
Author works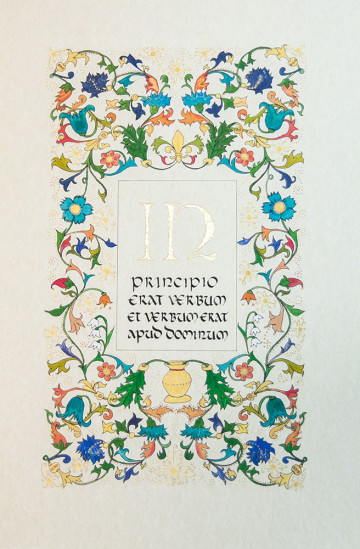 Logos
Paper: Unwatermarked Paper Hammer Nib: Brause square nib 2 1/2 Leonardt round England Ink: "Pelikan" 4001 Brilliant black Colour: Studio Gouache "Pebeo" Contour-lining paste "Marabu" Copper and Gold Raised gilding: Mixtion relief "Pebeo" gedeo Gold leaves: "Gedeo", 500 x 330 mm, 2017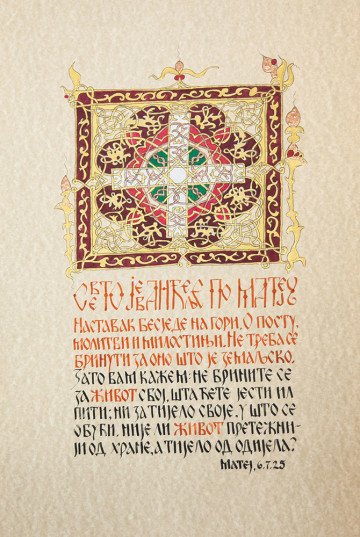 Apotheosis of Life
Technique: gouache and ink on paper Materials used: Paper: Unwatermarked Paper Hammer Nib: Brause square nib 2 1/2 Leonardt round England Ink: "Pelikan" 4001 Brilliant black and "Pelikan" 4001 Red Colour: Studio Gouache "Pebeo" Contour-lining paste "Marabu" Copper and Gold. The artwork is written in the "Ustav" Cyrillic script, 485 x 325 mm, 2017
Biography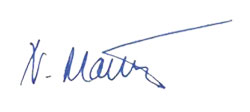 Nina Markovic (maiden name Korunovic) was born on 17/08/1976 in Nova Varos, Serbia. She is a descendant of a famous Serbian architect (Momir Korunovic) and composer (Stanisa Korunovic).
She holds a BA degree in English language and literature and an MA degree in English literature, both obtained from the Faculty of Philology, University of Belgrade (Serbia). From 2000-2003 she worked as an English language teacher at the Philological high school in Belgrade, and since 2003 she has been working on EU-funded projects, initially as an Interpreter (2003-2008), Project Assistant (2008-2013) and Programme Manager (2013 to date). Since 2005 she has been living in Montenegro and as of 2008 she is employed at the EU Delegation to Montenegro.
Nina Markovic started practicing calligraphy as a hobby in 2010 and is self-taught, and since then has produced more than 50 unique pieces of calligraphy (excerpts from Gospels, prayers, blessings, quotes and the meanings of the names), and all were given away as presents on different occasions (wedding, birth of a child, housewarming etc.).
Exhibitions: Art Talent Exhibition of the European Commission Directorate General for Neighbourhood and Enlargement Negotiations (DG NEAR) in Brussels, 3-18 December 2015.
For her, calligraphy is not only the art of beautiful and ornate handwriting; it combines the art of drawing and painting with meticulousness, precision and accuracy in letter writing; it perfectly blends substance with form; it is a tribute to the ancient inventor of alphabet and while being an art in itself, helped spread literacy, religion, knowledge and learning across the continents and cultures over the centuries. She admires the dedication, patience and perseverance of the ancient scribes, as they are the apostles of the written word we have today, and is also thrilled to see the revival of this art in recent years. For Nina Markovic, calligraphy is a kind of meditation, a form of escapism from the hustle and bustle of contemporary gadget-dominated life.
In Cyrillic alphabets, she has tried her hand at Ustav, Brzopis (cursive writing) and Vyaz, and in Latin scripts Gothic and Uncial. In her calligraphy works she likes to introduce illuminated initials, floral ornaments, raised gilding (gold leafing), sealing wax but also sometimes lace and satin ribbons.
Through her work she strives to preserve the art of calligraphy from oblivion, and in particular Cyrillic alphabet, as part of cultural heritage and national identity.