Jovanka Sorgic
Biography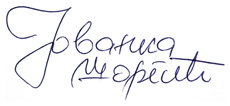 "I was born in Šibenik, in Croatia and I live and work in Belgrade. I finished secondary school of mechanical engineering and for years did work related to engineering industry, but the love for calligraphy has always dwelled inside me".
"From 2002 to 2006 I attended classes at the calligraphy school in the St Aleksandr Nevski Cathedral of Belgrade. With a lot of effort and hard work I collected required material and had my first collective exhibition in 2006, in Belgrade. My wish is to spread the knowledge of calligraphy and that's why as part of each one man show I organize an open master-class for interested visitors. I have been engaged as a calligraphy lecturer on several projects regarding extra curriculum activities. Since 2008 I have been a full time calligraphy teacher at Studenica summer camp that is intended for school children from Serbia and Serbian diaspora, and is held at the monastery of Studenica.
ONE MAN SHOWS:
2009. Cultural centre, Novi Banovci, Serbia
2008. Center for culture, Arilje, Serbia
2008. Center for culture, Ivanjica, Serbia
GROUP SHOWS:
2009. Cultural centre ,Stara Pazova,Serbia
2008. Centre for culture, Šabac, Serbia
2006. House of Đura Jakšić, Belgrade , Serbia
MY WORK
With the aim of preserving cultural and spiritual heritage and the Cyrillic alphabet as one of the primary characteristics of a national identity I write my works using the Cyrillic alphabet which is a rarity in calligraphy art. Through these works I tend to cherish and continue the values of beautiful handwriting which are deeply rooted in Serbian traditional art. Furthermore, these works are connected with the art of icon-painting, and in the past they were united. This is one more reason why my works are written by means of the traditional Cyrillic alphabet for they are of biblical and spiritual content. At the same time I'm engaged in new reading of letters and text, experimenting with the modern visual language and materials. Concerning the form I largely recur to modern painting elements. I hope with all my heart that my work will contribute to saving calligraphy as art from oblivion.