Mohan Jayant Saraf
Biography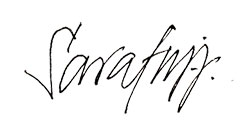 Born in 1955 at Jalgaon, Maharashtra, India.
Graduated with a Five Years Government Diploma in Applied Arts from the J.J.Institute of Applied Arts, Mumbai, Maharashtra, India in 1977.
"I pursued my profession as a calligrapher since then and a few years later I added photography to my profession. Calligraphy is what I am blessed with whereas photography is my soul. These are the two things I feel my existence with. I enjoy connecting with everything in this universe through my camera lens, and love expressing my feelings through calligraphy.
Here in India, I have created various artworks including invitation cards and stage backdrops using calligraphy for numerous events of marriage, and social functions".