Amol Saraf
Author works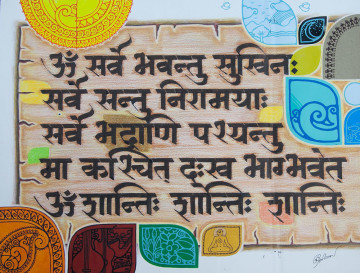 Peace: A real Contentment
Canson White colored paper, Calligraphic Ink for lettering, colored pencils, acrylic colors, Ink pen, Technique used: I have tried to give the paper an appearance of Traditional "Tad Patra: a Palm leaf or inner bark of a tree", on which ancient Indian manuscripts were written. The material used and motifs are created with paper clippings and acrylic color, colored pencils and calligraphic ink; Direct lettering in Devanagari Script, 457 x 609 mm, 2017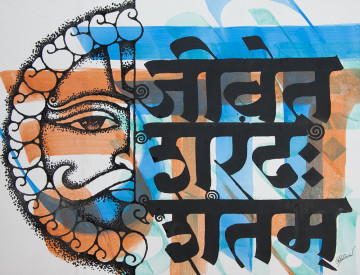 Sun: An Essence of Survival
Canson paper, Chinese calligraphy ink, photo ink, metallic calligraphy brush. The background letters were created first, in three layers of different font sizes with photo ink, and then bold lettering in black is the phrase ("Yes, he will live a hundred years") from Atharva Veda. The adjacent Sun is created with Chinese calligraphy ink. Direct lettering in Devanagari script with photo ink colors and Chinese Calligraphy ink, 457 x 609 mm, 2017
Biography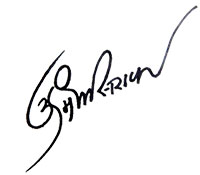 Amol Saraf was born on October 28th, 1966 at Jalgaon, India, and earned his degree of Bachelor of Fine Arts from Sir J.J. Institute of Applied Arts, Mumbai, India in 1987.Born multifaceted, Amol Saraf feels that "My mission as an artist is enhancing the beauty of the world by creating exclusive, sustainable and eco-friendly works of art for the compassionate art loving community across various cultures around the globe." He is strongly inspired by Meditation, spirituality and The Nature and believes in creating artwork that is soothing, refreshing and positive. He is a born multifaceted artist. Mr. Saraf love to work in all mediums and with all types of materials. Though Oil on Canvas is his first love, he enjoy creating through various forms of expressions and materials. His works of art ranges from photography, oil/acrylic on canvas paintings, watercolor/ pencil on paper artworks, murals in painting, stone, plaster of Paris, and Siporex to advertisement, logo, symbol designing, calligraphic works of art etc.He is best at drawing caricatures and cartoons.
Till date he has conducted and participated in numerous, Individual and group exhibition on national and international level.
Besides visual artist he is a good entertainer as a mimicker, actor, singer and comedian. He pursued his profession as a painter and a calligrapher. He feel blessed that he has that art, passion, and profession that can be used for the betterment of our world. He has numerous other international and national achievements to his credit, such as, he is been Awarded " Best Hand writer of the world 2015" for his artistic handwriting by Handwriting for Humanity, New York , his colored pencils work of art has been awarded " Award for Outstanding Achievement" by Colored Pencil Society of America in 2015, he was one of the only eight artists invited from around the world for conducting workshop at 798 International Children's Art Festival, Beijing, China 2015, he was one of the five artists as outstanding award winners at Toride International Wall Mural competition 2014, Japan ,just to mention a few.He has conducted more than 15 exhibitions on national and international level. He has been selected and invited for Guest Artist Residence at Smedbyn, by Culture, Recreation and Sports Department of Jonkoping, Sweden, in the year 2015.
He feels, "Our life is so beautiful only because of variety of colors and our world is beautiful because of different people, cultures, climates, geographical locations existed in the world." Amol loves exploring new places and meeting new people as it provides a great inspiration for creating unique works of art with new themes.