Tashi Mannox
Biography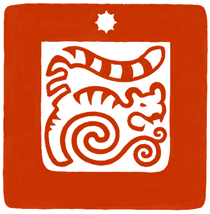 Tashi was born in England in the year of the water tiger, for the past 35 years he has studied an eclectic range of artistic disciplines within both the Eastern and Western traditions in his journey as a painter and calligrapher.
Shortly after gaining a BA [Hons] degree in Fine Art, he became a Buddhist monk of the Tibetan Kagyu order and at the tender age of 22 was given the name Tsering Tashi.
For seventeen-years he apprenticed under the direction of a master of the Karma Gardri Tibetan art tradition, Sherab Palden Beru, studying the Tibetan language and traditional temple decoration which coincided with the timely building of the Temple at the Samye Ling Tibetan centre in Scotland.
During this period Tashi studied under many Tibetan Lamas, including the artistic guidance from H.E Situ Rinpoche and inspiration from the calligraphy works of Chogyam Trungpa. However the foundation of Tashi's training is set by the high standards and clarity of his spiritual father Akong Tulku Rinpoche.
Part of Tashi's monastic training was in 1988 to enter a closed four year Buddhist retreat, which also gave a sensitive environment to meticulously copy ancient Tibetan texts, furthering his training as a scribe in the highly disciplined, and multiple forms of Tibetan calligraphy.
In 2000 Tashi Travelled to India, where in Dharamsala he was privileged to study under a master of ancient Sanskrit: Lama Pema Lodrup, These artistic forms of Sanskrit called Lanza and Wartu, are preserved by only a handful of practitioners in the world today.
Since laying down his monastic robes in 2000, Tashi has built on his disciplined training and meditative awareness, formed through years of practicing the Tibetan Buddhist Tantras and philosophy - to produce a collection of iconographic masterpieces that reveal powerful, spiritual themes through the majestic images of Tibetan Buddhist calligraphy and iconography.