Michel D`Anastasio
Biography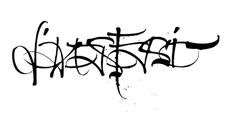 Michel D'Anastasio was born 19.01.1968, in France. He is a left-handed calligrapher, painter and graphic designer.
His work bears the harmony of the Hebrew and Roman letters, abstract signs.
Approach to the creation of Hebrew calligraphy
2004 to this day…
Michel's trip to Malta shortly after the country of his ancestors celebrated joining the European Union proved to be very beneficial. During his genealogical research he discovered that part of his family was of Jewish origin. Thus Michel travelled on to Israel. He was overwhelmed by local culture, especially by Hebrew script. Back in Paris, he spent hours and then weeks studying Judaic calligraphy. Working with these letters brought immense satisfaction to him, every time he set down to work, Michel was swept with an inexplicable feeling of joy. A new world of forms and signs now opened its gates to him.
Michel found out that slanting type letters allow much more freedom and a contemporary feel; it seems they are full of life. Original admiration naturally evolved into a clear and obvious desire to improve and modernize the mastery of Hebrew alphabet design. In the same way Michel had modernized the Roman alphabet.
Today Michel continues to study the Hebrew language to hold a firmer grasp on all those signs and letters that come from under his quill so easily.
His work evolves fluently; Michel uses new materials to enrich his chefs d'oeuvre. Photographers, who specialize in calligraphy and décor photography, make good money cooperating with Michel.
As a visual communication agency director, Michel designs: corporate logos, graphic images, billboards, and decorative lights, with the help of the art of calligraphy.
Expositions
Gallery ART de VOIR, Paris (France) / December 2, 2010 – February 15, 2011
17th Storytelling and Calligraphy Festival– University Library Louis Aragon, Amiens (France) / November 17 – December 8, 2010
Let there be light! European Days of Jewish Culture of Lorraine 2010, University Library «Paul Verlaine» Metz, Ile du Saulcy (France) / October 5 – 30, 2010
The Third International Exhibition of Calligraphy, Velikiy Novgorod (Russia) /September 10 – 12, 2010
Tel-Aviv Accessible art – Gebo Art center, Tel-Aviv (Israel) /September 2 – 8, 2010
Naissance des Alphabets sur les Rives de la Méditerranée (The Birth of the Alphabets on the Mediterranean Shores) – Cultural Center Nicolas Peiresc, Toulon (France) / August 16, 2010 – January 2010
Jerusalem Synagogue "Judaica – Calligraphy" Prague (Czech Republic) / April 25 – October 3, 2010
Amal Association "LIGHT, SOUND & CALLIGRAPHY" Grenoble (France) /March 9 – March 26, 2010
Urban Calligraphy Exhibition in City Exterior, Israel Palestine "Peace as utopia" within the framework of the year of Utopias & Innovations, Besançon (France) / January 28 – February 28, 2010
The Second International Exhibition of Calligraphy, Moscow (Russia) / October 14 – November 14, 2009
Comptoir des ecritures (Lettering Overview), Paris (France) / 2 — 30 April 2009
Centre culturel d'Ormesson (France) / 25 January — 8 February 2009
Festival Callifest 2008, Mumbai (India) / 15 — 21 December 2008
Maison des MICI — AFA, Paris (France) / 6 — 30 November 2008
Art-&-Miss, Paris (France) / 4 — 31 May 2007
Cafe Culturel, Saint Denis (France) / 27 February — 31 March 2006
Art-&-Miss, Paris (France) / 2 February — 28 February 2006
Saint James Cavalier Creativity Centre, Valetta (Malta) / 13 October — 13 November 2005
Ministry of Gozo Island, Gozo (Malta) / 2 September — 30 September 2005
Fiap Espace Jean Monet, Paris (France) / 21 September — 9 October 2004
ART O NIVEO, Brugge (Belgium) / 3 December 2003 — 26 January 2004
Workshops
"Modern Hebrew Calligraphy", The Third International Exhibition of Calligraphy, Veliky Novgorod (Russia) / September 10 – 12, 2010
"Modern Calligraphy" Médiathèque des Mureaux (France) /May 2010
Maison des MICI — AFA, Paris (France) / 28 February 2009
Centre culturel d'Ormesson (France) / 28 January 2009
Callifest 2008, Mumbay (India) / 15 — 21 December 2008
Mercator — KERKCENTRUM "DE GAARDE", Bunnik (Nederlands) 29 January 2005