Katharina Pieper
Biography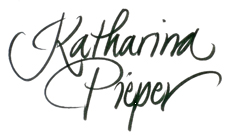 Katharina Pieper was born in 1962. She studied at the University of Applied Arts (Wiesbaden), Department of Communicative Design, where she mastered all of the principal artistic methods – drawing, painting, printing art, calligraphy, photography, different types of printing methods etc. In 1987, she earned the Professor Werner Schneider diploma. Then she attended numerous classes in font design and calligraphy, including Japanese, Chinese and Korean calligraphy.
Since 1988, Katharina has taught at schools of applied arts in Mainz (1988-1996), Saarbruken (1989-1998), Wiesbaden (1995, 1998), and since 2003, at the professional education university in Ravensburg. In 1995 and 2004, she was invited to give lectures at a school of applied arts (special high school) in Hamburg, to the Pentiment summer academy.
Since 1991, Katharina has regularly held classes and courses in calligraphy in Germany, France, Belgium, the Netherlands, Iceland, the United States of America, the UK, Switzerland, South Africa, Italy and Finland.
In 1998, she won the calligraphy contest in Westerlo (Belgium), and since 2000, she has been a member of the jury of this contest.
Since 1987, Katharina has regularly displayed her calligraphic work at world renowned exhibitions; her works have been published in different books and magazines (Germany, Belgium, France, the Netherlands, Switzerland, Austria, England, Italy, Iceland, the USA, Finland, Lithuania, and Poland).
Numerous artistic collections, collections of calligraphic work, and calendars from Katharina Pieper are presented in public and private collections, including Klingschpor Museum in Offenbach, Library of Lower Saxonia in Hannover, Library of Bruges (Belgium), Public Library in San Francisco, as well as the German Museum of Book and Writing in Leipzig.
In 1997/2003, she held the position of President, International Society of Literature and Calligraphy, and was responsible for the design and publication of the Ars Scribendi magazine.
In 1991, her book Schrift Schreiben was published. Since 1989, she has worked for different technical publications in Germany, the UK, Belgium, Austria, and Switzerland.
In 1998, Katharina founded her own publishing house to publish her own calendars, books, and postcards.
At present, she is a member of the Society of German Designers, Society of German Press, Calligraphic Society of Switzerland, Letter Exchange Calligraphic Society (London), Calligraphy Society (Belgium), Scriptores (the Netherlands, Belgium), Union of Klingschor Museum Friends, Guttenberg Society (Mainz), honorary member of the Society of Calligraphic and Font Art (CLAS, London); since 2007, emeritus honorary member of CLAS.
Exhibitions (choice):
1989 Letters on paper, metal and glass; International Calligraphy Exhibition (Bruges), Belgium
1990 Guttenberg Book Association (Wiesbaden) – Germany (personal exhibition)
1991 Saar Artistic Workshop, Saarbrukken – Germany (personal exhibition)
1991 Guttenberg Book Association (Frankfurt-am-Main) – Germany (personal exhibition)
1992 4. International Calligraphy Exhibition (Bruges) – Belgium
1993 Paper Art Gallery (Koln) – Germany
1994 Westerlo Cultural Center (Westerlo) – Belgium
1994 Old Castle (Artistic Union), Dillingen – Germany (personal exhibition)
1995 Letters, Letters — International Calligraphy Exhibition, Bruges – Belgium
1995 Meermanno Westreenianum museum – International Calligraphy Exhibition, Den Haag – Belgium
1995 Pentiment Summer Academy, Exhibition of Invited Professors, Hamburg – Germany
1995 Greip Gallery, Reykjavík – Island (professional exhibition)
1995 Pagine di Viaggio, Fondazione Giacomo Costa – Italy
1995 Pastoral Calligraphy, Maurez – France
1995 Beautiful Letters, Citagelle – Italy
1996 Lower Saxonia Library, Hannover – Germany (personal exhibition)
1996 Stone Writing and Calligraphy, Oswald Schneider workshop, Siegburg, Germany
1996 Calligraphy, Aubern Library – France
1997 International Exhibition of Artistic Books and Manual Printing Machines, Leipzig, Germany
1997 Sylvia Ulma Book Gallery, Foelklingen, Germany
1998 International Calligraphy Exhibition, Cultural Center (1st place), Westerlo, Belgium
1998 6. International Calligraphy Exhibition, Brugge – Belgium
1999 Municipal Library at the Koln University, Germany (personal exhibition)
1999 International Calligraphy Exhibition, Bertold Villa, Salzburg, Austria
1999 CLAS Calligraphy Festival, Wooster, the UK
2000 Klingschpor Museum: Art of the 20th Century Font, Offenbach, Germany
2000 Modern Japanese and Western Calligraphy, Den Haag, the Netherlands
2000 Venus van Milo Art Gallery – Belgium
2001 Rosenkranz Gallery, Kemnits, Germany
2001 Bellville Art Gallery, South Africa
2001 Greenhouse, Bliskastel, Germany (personal exhibition)
2001 International Calligraphy Exhibition, Pistoya, Italy
2001 Fine Arts Museum, Locl, Switzerland
2002 Homburg, Gallery in Zaalbau Cultural Center, Germany (personal exhibition)
2002 Exhibition of work of members of the Vivid Letters Calligraphic and Font Art Society, London, the UK
2003 Kanne Cafe, Jazz & Blues, Neunkirchen, Germany (personal exhibition)
2003 Font Museum, Pettenbach, Austria (personal exhibition)
2004 Materialimmagini Gallery, Modern Calligraphy Exhibition, Macherata, Italy
2005 VIDICAL – International Exhibition of Calendars, Warsaw, Poland
2005 Sanomatalo – International Calligraphy Exhibition, Finland
2005 2nd International Collage Exhibition, Kaire Desine Gallery, Vilnius, Lithuania
2005/2006 HerzZentrum Gallery, Essence of Heart, Voelklingen, Germany (personal exhibition, together with Jean Larcher)
2006 Beck Gallery, Summer Night Dream, Homburg, Saar, Germany
2006 International Calligraphy Exhibition, Terville, France
2006 Gacomo Leopardi, modern calligraphy exhibition, Recchanati, Italy
2006 Book Honoring, Homburg Cultural Café/ Library – Germany
2007 Old Workshop Culture House, Water Song, Hillesheim, Germany (personal exhibition together with Jean Larcher)
2007 HerzZentrum Gallery, Essence of Heart, Voelklingen, Germany (personal exhibition, together with Jean Larcher)
2007 Satakunta, University of Applied Sciences, Kankaanpää, Finland
2007 Poetry of Roses, Bipontina Library, Zweibrukken, Germany (personal exhibition, together with Jean Larcher)
2007 Woman in Light Clothes, Women's Library, Saarbrukken, Germany (personal exhibition) 2007/08 Calligraphy and Lyrics – Lyrics and Book Printing, Book Fair, Leipzig, Germany
2008 Seoul Gallery of Arts, Seoul, Korea