Jiang Kai Zheng
Biography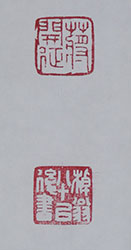 Jiang Kai Zheng was born in January 1935 in Tengzhou City, Shandong Province. He is Chairman of the Scientific Society of Calligraphy and Painting of the City of Qufu, Honorary Chairman of the Qufu City Association of Calligraphers; Honorary Chairman of the Jining City Association of Calligraphers; Senior Advisor of the Academy of Painting of Shandong Province, board member of the Shandong Province Association of Calligraphers, member of the All-China Association of Calligraphers.
Jiang Kai Zheng began to practice calligraphy and painting as a child and has now devoted more than forty years to this passion. In the early 1970s, he studied under the famous calligrapher Jiang Weisun.
The works of Jiang Kai Zheng have been exhibited in Singapore, Malaysia, Hong Kong, Taiwan; many are included in museum collections. Twice, in May 1988 and in July 1991, he had exhibitions in Japan, and received high praise from Japanese calligraphers.
The works of Jiang Kai Zheng were featured in various specialized publications in China and abroad, among them Calligraphy, Messenger of Calligraphy, Culture and Art, Lifestyle. In 1985, he became the guest of the Confucius. Calligraphy television program within the People of the Great Channel cycle on China's Central Television.
Jiang Kai Zheng's biography and calligraphy works are included in many catalogs and collections, including Ancient and Modern Calligraphers of China, Contemporary Art of Chinese Calligraphy, Contemporary Artists, Famous Calligraphers of the 20th Century, etc., A catalog of Kai Zheng's best works has been also published.
He studied the writing styles of the Northern Dynasty era (Weibei style), writing on stone drums (Shi Gu Wen style), writing on bamboo tablets of the Han era (Han Jin style), and also the works of Wang Xizhi and his son Wang Xianzhi, Zhang Xiu, Mi Fu, Wang Do and other great calligraphers.
Jiang Kai Zheng is in a permanent creative search, always improving, drawing inspiration from painting and literature. In his calligraphy, he strives to combine traditions, modern aesthetics and his own visions of beauty. The most famous works of the author are in the styles of Caoshu and Xingshu. His possession of the Kaishu, Weibei, Zhuan, and Jinshu writing techniques has also gained him fame among Chinese and foreign experts.