Marina Soria
Author works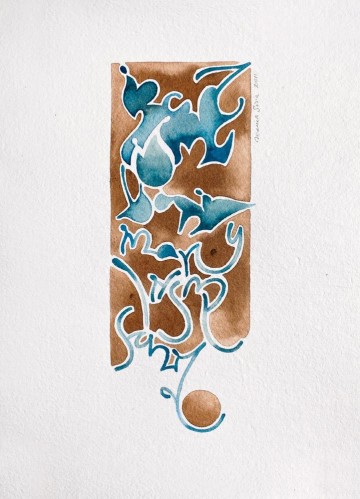 In Art Lies My Sanity
Walnut ink & watercolor, brushes on handmade paper by papermaker Andrea Chiocca, 24x32 cm, 2011
Biography

Marina Soria was born in Buenos Aires, Argentina, in 1961.
She obtained both a BA in Fine Arts (5 years study) and a BA in Graphic Design and Publicity (3 years study) in Buenos Aires. Besides formal education, her training includes two years in Hector Medici's Art Studio, a year course on Sculpture in the School of Fine Arts in Buenos Aires and a year workshops in sumi-e and Western painting.
Between 1989 and 1995, she was a professor at the University of Buenos Aires (UBA), teaching Graphic Design first and later a course in Editorial Design. While at UBA, she met Carole Johnson, an American calligrapher, who introduced her into the calligraphic arts. In 1998, she was promoted to Associated Professor and started teaching a course on Typography, which introduced students to the basics of calligraphy and calligraphic alphabet, a subject never before taught in Argentina. Thereafter calligraphy became a compulsory subject at the Graphic Design course.
She was a founding member of Calígrafos de la Cruz del Sur, the first group of calligraphers in South America. Between 1997 and 2006, the group conducted outstanding performances in Buenos Aires, promoting calligraphy through lectures at universities, conferences, workshops and exhibitions.
For personal reasons, in 1999 she discontinued her academic career at UBA and dedicated herself exclusively to calligraphy. Since then, she has been mostly interested in experimental calligraphy and in creating new calligraphic scripts.
Since 1998, Marina has been participating in several international conferences on calligraphy around the World such as Discoveries, the 18th Annual International Calligraphic Conference in San Diego, taking courses with Sheila Waters and Thomas Ingmire. In 2000, she attended Experiment, the 20th Annual International Calligraphic Conference, at Sonoma and took a course with Brody Neuenschwander. In 2003 she was awarded with the ACA´s Scholarship to attend the 23rd Annual International Calligraphy Conference in Ohio taking courses with Judy Melvin and Liza Engelbretch. In 2004 she attended the International Calligraphy Conference in Seattle, Washington, taking Thomas Ingmire´s workshop. In 2006 she traveled to Bruges to attend Brody Neuenschwander´s Calligraphy Conference in Belgium, taking courses with Ewan Clayton and Ives ´Leterme. In 2008, she traveled to Arezzo, Italy to take Monica Dengo´s workshop on Books by Hand.
In 2007, the University of Buenos Aires hired her to teach the first seminar course in experimental calligraphy for post graduate students.
Marina is a repeated prize-winner, has many diplomas and certificates; and has exhibited her work in painting and calligraphy in different art galleries and museums in Buenos Aires and abroad: Montevideo, New York, Madrid, Berlin, Moscow, and Tokyo.
In 2001, she travelled to Tokyo, Japan. This trip had a great impact on her style, because of her original fascination for Oriental arts. In her attempt to learn even more about Eastern philosophy and culture she attended a yearlong workshop in sumi-e.
Miss Soria has published articles in journals such as "Todosobre la Caligrafía", Barcelona, Spain; several issues of the Codice magazine; the Book Binders Association in Argentina; Novum, Design magazine from Germany; Tipo 04, design and typography from Mexico; Calligraphy Network Newsletter, from Tokyo, Japan; Pulso/Design, from Uruguay.
Her work can be found in the annual issues of Letter Arts Review, the most prestigious International publication in this discipline; Bound & Lettered and the ACA´s Newsletter from USA.
Currently, she works as a fine arts artist and calligrapher in her private studio, doing works upon request and creating books. As far as teaching is concerned, she offers workshops on calligraphy for adults all year round and she tries to make calligraphy accessible to children through workshops and lectures in schools.