The world's calligraphy masters have demonstrated their skill in Moscow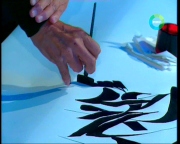 Calligraphy (from Ancient Greek: κάλλος kallos "beauty" + γραφή graphẽ "writing") is a complex art. You can always judge a person, her character, her thoughts, her state of mind and soul by the way she writes. This is the very case when how you do it is no less important than what you do. The 2nd International Exhibition of Calligraphy is living testimony thereto featuring Torah sacred texts, a Koran chiseled out in gold, Old Russian writing and other sophisticated stuff. Valekh Salekh was reading, or rather, peering into the manuscripts.
The tip of the pen caught the author's breath. That's what they often say about calligraphic chefs d'oeuvre. A swift light stroke, swish!, and a curl appears on a blank paper sheet. There can be no telling what this is intended to become. But here is another curl gradually unveiling the mystery of the design to the onlooker. The author's job is to turn mere writing into art.
"When you open a music book, you see numerous dots, sticks, and ticks from which a melody can be generated. Calligraphy is much akin to melody," cellist Denis Shapovalov says. The beauty of man is in the beauty of his handwriting. The best masters from thirty countries have united their effort to prove this universal truth. Handwritten books from China, a calligraphic composition from the USA, surahs from the Holy Koran on a golden plate; all these exhibits arrived in Moscow to beautify the 2nd International Exhibition of Calligraphy.
Alexey Shaburov, Director of the Contemporary Museum of Calligraphy says, "This collection, featuring around one thousand three hundred exhibits, is unique for they are all masterpieces by the world's best calligraphers and calligraphic associations."
Erkki Ruuhinen, a calligrapher from Finland draws his inspiration from nature. He believes, natural phenomena have a pattern of their own, while the artist's challenge is to capture and reproduce it.
One of the very special exhibits is a World Famous Mezuzah, a chef d'oeuvre of Judaic sacred calligraphy listed in the Guinness World Records, executed on parchment by Avraham Borshevsky from Israel. This is the world's largest scroll of its kind. "This mezuzah has been written in accordance with strict canons. The letters are very large. I had to wait for the previous letter to dry up to continue, which is quite uncommon for mezuzah writing," Avraham Borshevsky explained.
The visitors were also fascinated by Iranian calligraphy. One cannot help remembering the famous quote, "Beauty is in the eye of the beholder". Every exhibit is equipped with a magnifying glass. Unlike European canons Arab scripts are written from right to left. One curl can contain a whole sentence, paragraph or even a complete chapter. In ancient times the art of calligraphy was taught along with philosophy, rhetoric, and music. Only the select few were allowed to penetrate the mysteries of the art for they shaped the sacred texts for the contemporary and future generations.
"The advent of book printing the need to copy the books by hand vanished. Today you can type a letter on your PC and print it out in the twinkling of an eye, but only handwritten letters can transmit the author's emotion and warmth," Barbara Calzolari, Pope Benedict XVI's calligrapher, believes.
If you're not in the mood, it is better to not take the pen at all for it subtly conveys the artist's character and current emotion. It is as hard to write a beautifully decorated word as is to write poetry, whereas a beautiful poem can be depicted only by a beautiful hand. Those who chronicle the poems are the poets" backing vocals.