Calligraphers have copied the 15-year-old Constitution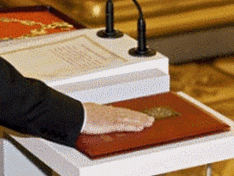 Today Moscow will see a scientific and practical conference dedicated to the 15th anniversary of the adoption of the Constitution of the Russian Federation. According to the Kremlin Press Service, Dmitry Medvedev, President of the Russian Federation, will personally attend the conference, Vesti reports.
On the occasion of the anniversary, the National Union of Calligraphy has created the only handwritten copy of Russia's Fundamental Law. The unique copy is embellished with a specially devised script on equally exceptional paper and with extremely exclusive ink. The team had been poring over it for five months.
RF President Dmitry Medvedev initiated the first amendments to the Constitution since its adoption.
In his presidential address to the Federal Assembly, Mr. Medvedev suggested that presidential and Duma terms of office be extended to six and five years respectively and that the Executive Branch be accountable to the Legislative Branch. Dmitry Medvedev made it clear that no drastic reforms but only minor corrections were underway and that "reformist zeal in regard to the Fundamental Law is totally inappropriate" for "the Constitution of the Russian Federation is efficient, it does work, and its basic provisions should remain unchanged for many a year".
The amendments concerning presidential and Duma term extension have already been adopted by the two chambers of the Russian parliament; now they must receive approval from the two thirds of the regional legislative assemblies. The procedure is expected to be complete by the end of this December.
The current Constitution of the Russian Federation is Russia's fifth constitution in order of appearance but the first one adopted by popular vote at a referendum on December 12th, 1993.
Source: Rosbalt, news agency