The Centre of Russian Calligraphy Was Established in Sokolniki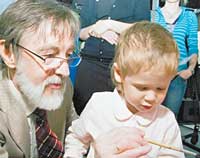 The official opening of the first in Russia Contemporary Museum of Calligraphy took place in Moscow one of these days. The VM correspondent was present at the event.

What makes the project unique, is that it is international. Rare calligraphic artworks from across the world are now exhibited at one place. A lot of presents were granted to the museum at the official opening ceremony. For instance, a fine manuscript by an Israeli calligrapher Avraam-Hersh Borshchevsky containing one of David's psalms was granted by a representative of the Israeli cultural centre Joseph Tavor.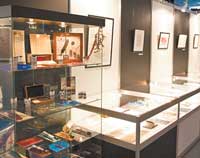 Since times immemorial when printing was considered to be a blasphemy, calligraphy was highly valued all across the world. The ancient people traced out each letter pains-takingly thus making it a piece of art, and their efforts were not wasted in vain, as it turned out. All those flourishes and illumination executed with great esthetic taste have always fascinated and delighted the eyes of the audience. It is a true magic on paper when plastically twisted letters make up gorgeous ornamentation.
Here are Chinese hieroglyphs which seem impossible to copy and near them are the scrolls with mysterious scripts framed with pictures and ornamentation. They all are as if "round dancing". Besides, the visitors can see the works of the famous masters' apprentices.
"The idea of this museum stimulates development of Russian calligraphy and unites all masters of calligraphy from Russia and abroad", said member of the Russian Union of Artists Nadezhda Pavlova.
It is the first and undoubtedly successful museum of calligraphy in Russia.
The exhibition was diverse and contained the specimen of Slavonic and European script, books on calligraphy, rare books. And writing utensils which help create beautiful calligraphic scripts: bamboo pens, plastic pens, sharpened birch sticks.
The exhibits from the past and present merged together.
It is important that opening of Contemporary Museum of Calligraphy is the threshold of the International Exhibition of Calligraphy which will be held in St. Petersburg on September 16-21, 2008.
The masters of the ancient art of calligraphy granted their artworks to the museum. Granting a piece of Arabic calligraphy, artist Valentina Kozhevina called museum "a model beautiful world". Calligraphy that had accumulated the experience of many generations was demonstrated at work during the master-classes.
According to Aleksey Shaburov, the museum will become the cultural centre of calligraphy. The centre will welcome the calligraphers from across the world who will give master classes, hold conferences and seminars.
Sokolniki promises to become the metropolis of calligraphy in Moscow and Russia.
By: Julia LEBSKAYA
Source: Vechernyaya Moskva, newspaper