Sakura bloomed in Moscow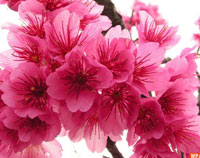 The first spring Sakura Festival of Japanese Culture, organized by the Contemporary Museum of Calligraphy and the National Union of Calligraphers, was in Moscow's Sokolniki Park.
As a part of the festival's vast programme several exhibitions dedicated to calligraphy, painting, theatre engraving, kimono, and bonsai plants were held. The guests had the chance to see movies about Japan, enjoy the traditional tea ceremony, take master-classes, visit lectures and workshops, and witness an unforgettable performance of the drummers group. There was a new pavilion built especially for this festival in Sokolniki Park.
Source: Vechernyaya Moskva (Evening Moscow) newspaper