Retired journalists hold calligraphy exhibition
Three former Hankook Ilbo journalists are holding a calligraphy exhibition. In the exhibit titled "Three Journalist Companions," which kicked off Thursday, the veteran journalist trio, who have dedicated their lives to news reporting and making sense of facts, have joined together to share a common interest.
They are Yoon Kook-byung, former head of both the Hankook Ilbo and its sister paper The Korea Times, Kwon Hyuk-sung, former Hankook Ilbo chief editor, and Yim Chul-soon, Etoday chief editorial writer and former Hankook Ilbo chief editor.
"From what I know, it is the first joint calligraphy exhibition of journalists. Since my retirement, I have picked up the ink brush and I've been practicing it for almost 13 years," said Yoon, a 76 year-old who joined the Hankook Ilbo in 1965 and led The Korea Times from 2002 to 2004.
Saying he still holds it as a special memory that he happened to learn from a famous calligrapher as a high school student, he added that practicing calligraphy is a great way for self-cultivation. "While I concentrate on writing the letters one by one, all other trivial thoughts go away. There is a saying that the letters one writes reflect oneself. The more I learn and practice, the more I realize how hard it is."
The exhibition will display the trio's 100 works at Baegak Art Space, in Insa-dong, central Seoul, until Dec. 20.
They include three works on the theme of journalist virtues. Yoon chose four Chinese characters meaning "the right words stays in the middle," stressing the virtue of impartiality, while Kwon, 84, chose "news reporting based on hard facts", and "freedom of speech" for Yim.
"I'm overwhelmed with emotion realizing that I've held a pen for my entire life and now I'm holding an ink brush at an age when others are holding canes. Some of my friends complain time goes slowly after retirement, but while I'm writing, I feel like time flies," said Kwon. "It is so much fun, studying old Chinese phrases and various writing styles and thinking for myself about how those different writing styles have gotten to develop over time."
Yim, the youngest of the trio, said he has had this craving for calligraphy for a long time but after he retired from the Hankook Ilbo in 2012, he began to start it in earnest.
The 64-year-old Yim says most of what he writes is great old Chinese phrases and each time he writes he learns something new. "I tried different writing styles in the exhibition and the one I wrote with on the theme of a journalist virtue is the same writing style that was written on the Gwanggaeto Stele, a memorial stele for the tomb of King Gwanggaeto the Great of Goguryeo. It is a very masculine and majestic writing style," he said.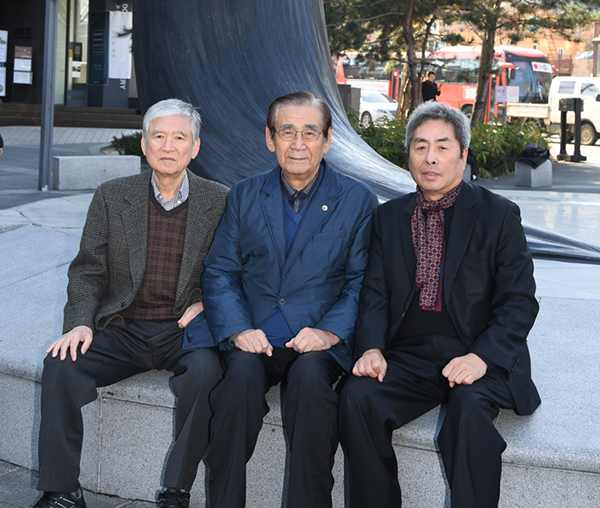 Source: www.koreatimes.co.kr