The Museum of Calligraphy opened in Moscow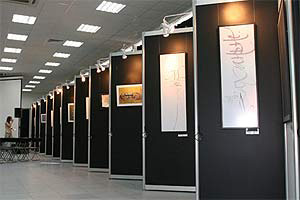 Calligraphy news
Russia's first Contemporary Museum of Calligraphy opened in Moscow. There are more than 300 exhibits presented: medieval manuscripts from Europe and Asia, and works of the contemporary calligraphers. The Mystery of the World's Calligraphy exhibition was timed to the official opening of the museum. During the seven-day exhibition lectures and master-classes of renowned calligraphers will be held.
Calligraphy (from Greek for "beautiful handwriting") is the art of beautiful and neat handwriting. The exhibition features works of leading calligraphers from Russia, Belarus and Ukraine. The exhibition of the foreign calligraphy schools from Europe and the Baltic States, the U.S., Israel, China, Japan, Syria, Mongolia, the United Arab Emirates, Turkey, Australia, India, Taiwan, Palestine, Jordan, Brazil, Peru, Armenia and Iran was especially organized to understand the beauty of calligraphy and its diversity.
The exhibition features a vast museum exhibition which will include historic manuscripts" samples of different ages, writing and calligraphy utensils, and a specialized library.
Source: Kultura-portal.ru, Kultura (Culture) newspaper website