The largest exhibition for calligraphy opens in Moscow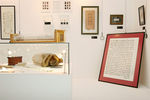 The II International Exhibition of Calligraphy is to open in Moscow on October 14. Such a large culture event for calligraphy is to be held in Moscow for the first time ever.
The exhibition is to be located in a unique mobile pavilion. The exhibition space will cover as many as 5, 000 sq.m. The exhibition will demonstrate the artworks by the world famous artists. The project geography is extending. The exhibition in Moscow will represent the masterpieces from thirty countries: Russia, Ukraine, Belarus, Israel, USA, Japan, China, Iran, France, Italy, Germany, Australia, Brazil, etc. The opening ceremony will welcome the officials of the Moscow Patriarchate, Mufti Council of Russia, and Principle Rabbinate, representatives of cultural centres, museums, education centres, embassies, collectors, art experts and critics.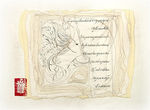 Invited by Director of the Contemporary Museum of Calligraphy Alexei Shaburov, the renowned calligraphers of the time will arrive in the exhibition. Among them are Barbara Calzolari, calligrapher of Pope Benedict XVI, Massimo Polello, the President of Turin Calligraphers Guild, Nja Mahdaoui, the patriarch of the world calligraphy and artist of UNESCO, Chen Wen Fu, the renowned calligrapher from China, Petr Chobitko, the President of the National Union of Calligraphers, Yuri Koverdyaev, the author of financial documents.
For the first time ever the exhibition displays a masterpiece of sacral calligraphy placed on the Guinness World Records, a sacral Jewish manuscript written in parchment by a renowned Jerusalem calligrapher Abraham Hersh-Borshevsky. The visitors will see the unique artworks: a draft copy of the illustrated script anthem of the Russian Federation, the present to President Dmitry Medvedev from Italian Prime-Minister Silvio Berlusconi, the unique handwritten Constitution of the Russian Federation, Decalogue, Golden Quran, the sculptures by George Beckman, a sacred mantra, the unique calligraphy piece "on a fly's wing" and many other amazing things. Special attention will be paid to the thematic sections representing the writing culture of different peoples, states and religions. A highly topical business programme (master classes for all the concerned) and the contest Holy Writing in Calligraphy are planned to be held in the context of the exhibition.
The exhibition will be held from October 14 till November 14, 2009 under the aegis of UNESCO commission for the Russian Federation and the Ministry of Culture of the Russian Federation.
Detailed information is available here.
Source: Rambler-Afisha