The International Exhibition of Calligraphy opens in St. Petersburg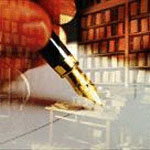 The total number of exhibits exceeds 350 works by the elite representatives of a variety of calligraphy schools from 24 countries. Among the collection are the most fascinating, yet unexplored, samples of Slavic writing, historical manuscripts from all over the world, rare letters and documents, belonging to the Romanovs, the noble family of Russia.
The visitors will see a great gallery of rare, scarce and unseen manuscripts and miniature books from private collections. Besides this, they will see writing materials and utensils of all ages, and will be able to scrupulously examine modern originals and distinct samples of applied calligraphy.
The first handwritten copy of the Constitution of the Russian Federation is an exclusive document in modern Russia executed by a top-flight team of calligraphers in collaboration with publishers. Delicately designed, the folio is to be unveiled on September 17th and is to have a special place in the exhibition, as the organizers announce.
In the context of the Exhibition, the organizers are holding several master classes delivered by Russian and international calligraphy experts and artists, who will be happy to offer schoolchildren and students a couple of calligraphy lessons. All experts will be offered to visit a series of lectures.
Source: Alliance Media, news agency