The 2nd International Exhibition of Calligraphy in Moscow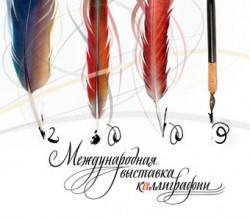 Don't miss this! The great event is back!
From October 14th – November 14th, Moscow will see the 2nd International Exhibition of Calligraphy featuring, inter alia, Chinese calligraphy and calligraphy from other Oriental countries.
The Chinese Calligraphy and Tibetan and Mongolian Calligraphy sections are located in the Victoria Pavilion 7a. The list of the Chinese masters on display is available at the exhibition's official website.
In 2009, Moscow has become the Calligraphy Capital of the World, the crossroads of the West and East, the meeting place of professional and amateur artists, the battlefield of classical and ultramodern calligraphy. The exposition will feature works by renowned calligraphers from thirty-three countries: exquisite samples of Slavic and European writing, strict forms of classical Japanese and traditional Chinese writing, and subtle inscriptions of the Jewish and Arab calligraphy.
The Moscow audience has a unique chance to savour paintings and rare manuscripts, listed into the Guinness World Records as well as to participate in mini-festivals of Japanese, Tibetan, Slavic cultures and in calligraphy master-classes.
The exhibition is held under the auspices of the Commission of the Russian Federation for UNESCO and the RF Ministry of Culture. It has also been approved by the Russian Orthodox Church, the Chief Rabbinate of Russia, the Mufti Council of Russia, and Russia's Buddhist organizations. All this emphasizes the prominent role of the project in the preservation of the world cultural heritage.
Exhibition sites:
www.calligraphy-museum.com
www.calligraphy-union.ru
Fixed Event Period
October 14th: 02.00 pm (admission by letter of invitation only);
October 15th: 10.00 am – 08.00 pm (admission by ticket only);
Box office: 10.00 am – 07.00 pm;
Entrance fee:
Adult – 300 RUR;
Students (student ID card) – 150 RUR;
Children under 14, retirees and people with special abilities – free of charge;
Art Album featuring the Mystery of the World Calligraphy collection – 700 RUR;
Those who purchase the Art Album will get a badge for free entrance at any time (to be passed on to some relatives or friends).
Address: Sokolniki ECC, Exhibit Halls 7, 7a, 17, Moscow, Russia
For more information, please contact us: +7 800 100 777 0
+7 495 995 0595
Source: www.magazeta.com