Muscovites will see the gift from Silvio Berlusconi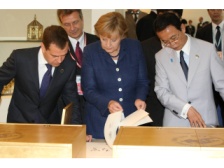 Within the framework of the Contemporary Museum of Calligraphy's 1st anniversary a unique event is planned on August 14th: a presentation of the exclusive gift Silvio Berlusconi presented to Dmitry Medvedev at the G8 summit in Italy.
An author of the draft of the handwritten copy of the National Anthem of the Russian Federation, Russian calligrapher Yevgeny Drobyazin will personally present it.
A presentation of another gift is planned for the same day: a World Famous Mezuzah, the only chef d'oeuvre of sacred Hebrew calligraphy listed into the Guinness World Records. Until today in Russia this artefact has never been exhibited from Jerusalem.
Muscovites and guests of the city will be able to see the exhibit over two months, at the world's largest exhibition of calligraphy, which will start in Sokolniki on October 14th, 2009. The exposition will present works from over 30 countries.
Source: Kultura (Culture) radio station