Get the Write Stuff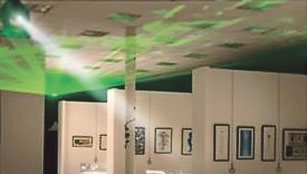 Anyone who ever collected autographs will find something of interest at the Contemporary Museum of Calligraphy. Among the special items on show until Sunday are rare texts from Russia`s three post-Soviet leaders, Boris Yeltsin, Vladimir Putin, and Dmitry Medvedev, and drafts of the inaugural speeches of American presidents Roosevelt and Kennedy.
The star of the opening show, The Mystery of World Calligraphy, which began on Wednesday, is a unique handwritten copy of the 15-year-old Constitution of the Russian Federation. Other highlights include a rare miniature version of the 1921 Soviet Constitution.
But it's not all about politics: the permanent exhibition boasts of more than 250 works from 26 countries, focusing on the artistry and skill of calligraphers down the ages. In addition, this weekend sees workshops and performances by leading artists.
The museum is located at Sokolniki Exhibition and Convention Centre in Sokolniki Park, and is open from 10am — 7pm. Admission is free.
Source: The Moscow Times Weekly (mnweekly.rian.ru)