Calligraphy to be introduced to Russia's beau-monde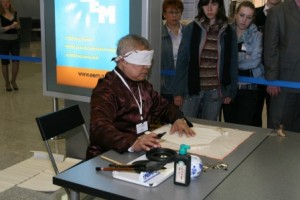 I.E. Repin State Academic Institute for Painting, Sculpture and Architecture in St. Petersburg opened its doors to hold the International Exhibition of Calligraphy. All the stands and plane-tables are already installed. The exhibition will be opened for everyone tomorrow, September 16th and will last until September 21st. Visitors are welcome to examine the collection at 17, Universitetskaya Embankment.
Professionals in this area particularly highlight the opportunity to see samples of work from calligraphy schools of the world for the first time. The exhibition presents works by calligraphers from Europe, China, Japan, Syria, Mongolia, Turkey, India, Australia, Taiwan, Palestine, Jordan, Brazil, Peru, the United States, Israel, Armenia and Iran. The organizers also draw attention to the fact that there is a possibility to visit a specialized library offered. The exhibition introduces the features of a calligrapher's workplace as well.
During the first days of the International Exhibition of Calligraphy work it was attended by a Russian beau-monde of artists and politicians.
Source: News NetPress.ru, news portal (news.netpress.ru)