Calligraphy is a state of mind and soul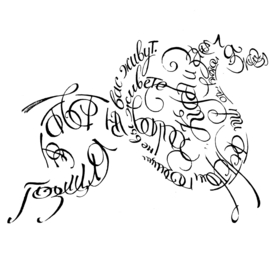 17th September 2008 the social-educative project the 'International Exhibition of Calligraphy' was launched in the building of the Russian Academy of Arts.
Project is aimed at reviving national traditions of writing, at discovering calligraphy for audience and creating an environment for its future development as art of mind and soul. Citizens and guests of St Petersburg will be the first to see unique exposition that accounts for over 350 stamp works of best world calligraphic schools from 24 countries. Along with antiques contemporary art are exhibited. The collection accounts for around 250 exponents among which most interesting and undiscovered are patterns of Slavic writing, world historical manuscripts, rare letters and documents of the Imperial House of Romanoff from store-room of State museum of history. Exhibition visitors will study the collection of rare handwritten and miniature books from private collections, writing instruments of different époques, will see modern authentic patterns of applied calligraphy.
The exclusive exponent of the exhibition will be one and only in the modern history handwritten variant of Constitution of Russian Federation that resulted due to efforts of a team of calligraphers and editors. Fancy folio will be presented on 17 September during gala-opening of the project and will occupy an honorable place in the exposition.
Every day during master-classes, 40 local and foreign artist-calligraphers will give lessons on beautiful writing to students. Professionals will listen to educational lectures, while round tables, seminars, calligraphic performances and different amateur contests will be held. Children will enjoy a special program. In the framework of the exhibition, calligraphers will give out lessons for orphaned children from orphanage No 23 St Petersburg.
Source: Internet-portal SpbLand.ru