An Exhibition of Calligraphy in Moscow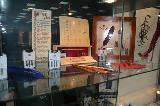 The 2nd International Calligraphy Exhibition has opened in Sokolniki Exhibition Center, Moscow on October 14th, 2009 to run through November 14th inside a unique mobile pavilion.
The Contemporary Museum of Calligraphy has simultaneously launched an exposition of its own.
The total exhibition area of about five thousand square metres features about one thousand three hundred interesting exhibits.
The visitors have been captivated by valuable and unique calligraphic works provided by artists from over thirty countries. The famous Sacred Calligraphy Collection of the National Union of Calligraphers is quite mesmerizing as well. Books on calligraphy, rare, ancient, miniature, single-copy books are bound to catch your eye. Among other exhibits are numerous pens of famous artists and calligraphers. One of the most interesting exhibits is The Combination of Gold, a colorful picture by Marie Emily Bohley made on Somerset paper, with the use of original materials such as ink and gold leaf. Connoisseurs of calligraphy will certainly get interested in the From A to Z painting, a tour around the Roman alphabet shown in the unusual motion of a ladybug across the letters written in Latin ligature. The author of this masterpiece, made on black paper with gouache, metal pen and brush is Jean Larcher.
One of the valuable pieces in this exhibition is a World Famous Mezuzah listed into the Guinness World Records written on parchment by Avraham Borshevsky, one of the most famous calligraphers. It is demonstrated to the Moscow public for the first time.
The entire exhibition is divided into thematic sections, which can adequately reveal the history of writing of various peoples, representatives of different religions and nations.
Many visitors are interested in master-classes held by the invited stars of contemporary calligraphy.
The Second International Exhibition of Calligraphy is attended by collectors, art historians, critics, art dealers, representatives of cultural institutions from around the world. The event is held on the initiative of the Ministry of Culture of Russia and under the auspices of UNESCO.
The Beautiful Handwriting Fest will be held in a very picturesque area of Sokolniki Park. The exhibition provides its guests with rooms at Holiday Inn.
Source: News portal AvtoVolk.ru