A permanent exposition of the Contemporary Museum of Calligraphy is to be opened in Sokolniki Park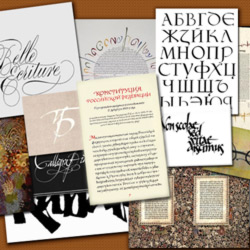 Calligraphy news
A permanent exposition of the Contemporary Museum of Calligraphy is to be opened in Sokolniki Park
The Mystery of the World's Calligraphy exposition will be opened in the new museum from December 9th – 14th, 2008.
The exhibition will showcase works by leading calligraphers from Russia, Belarus, and Ukraine. Historic manuscripts" samples of different ages, writing and calligraphy utensils will be also presented and a specialized library will be organized. Applied calligraphy will be represented by embroidery and calligraphic engraving on household items.
Master-classes by the leading calligraphers, educational lectures and workshops for adults and children are also planned.
The exhibition will present the first handwritten copy of the Constitution of the Russian Federation. Visitors will see 35 copies of miniature Constitutions (of the USSR, the Russian Federation, the United States, the CIS countries and Europe), as well as several inaugural speeches of the former leaders of various countries (Franklin Delano Roosevelt, John Fitzgerald Kennedy, Boris Yeltsin, etc.).
Source: MK.ru the internet edition