A Moscow Museum is to reveal masterpieces of Hebrew calligraphy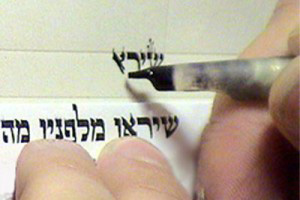 The Contemporary Museum of Calligraphy, the first museum in Russia dedicated to the art of handwriting, will soon be launched in Moscow. A special section will be given to masterpieces of the Hebrew calligraphy school.
Moreover, visitors will be offered the chance to examine samples of Slavonic and European writings, Russian and foreign books on the art of calligraphy, rare handwritten editions published in a single copy, and writing utensils of the past and present.
According to the Museum's owners, the centerpiece of the exhibition is presented with more than eighty beautifully designed paintings executed by calligraphers from Russia, Belarus, Ukraine, Germany, France, Israel, Syria, the USA, Japan, China and other countries.
It is worth mentioning that all across the world, including Turkey, China, Japan and the UAE, there are museums displaying permanent calligraphy expositions.
Source: CURSOR.co.il