Ana Hernandez Ramirez
作者的作品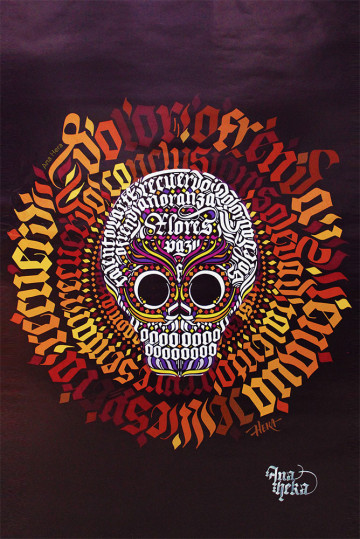 Between flowers
"Entre flores" / "Between flowers" is a piece inspired by Mexico, it portrays one of the most important traditions of the country that is to celebrate the dead, a day where we dress in colors and remember our relatives and loved ones with food from gastronomy Mexican and offerings to remember important moments and people in our lives that are no longer there; Without discarding elements of ancient civilizations through symbols such as the skull referring to death and various colors typical of Mexican culture.
flat pen, flat brush, ink, paper Arches
Technique: Digital / Gothic calligraphy
Size: 60 x 90 cm
生平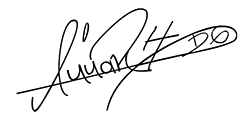 Born on June 26, 1994 in Mexico City. In 2012 she began her studies as graphic designer at the Universidad Autónoma del Estado de México. In 2014 he discovered his passion for letters. For three years she has been developing projects related to calligraphy. He has been generating his own style and a line of execution that allows him to experiment with new materials and supports such as glass, ceramics, clay, fabric, among others, as well as intervening objects that range from small to large formats. Multiple participant of international exhibitions, author of books, manuals and articles on calligraphy.
Exhibitions and publications:
— International publication, selection of work (Typism Book 4 / Queensland Australia, 2018).
— International Publication, integrating the Artists Gallery in Digital Magazine Lindes N ° 14 / Argentina, 2017.
— Demonstration "Doers of letters" National Congress of Typography in Mexico, Tipografilia 11. (November 2017)
— Presentation of individual exhibition "Florilegio" School of Architecture and Design. UAEMéx. Collection of 27 pieces. (May 2017)
— Presentation of individual exhibition "Florilegio" Faculty of Political and Social Sciences. UAEMéx. Collection of 18 pieces. (May 2017)
— Collective participation in traveling exhibition "Vivir la muerte" Houston, Dallas, San Antonio. U.S. Sculptural piece intervention, skull with calligraphy. (October 2016)
— Participation in a collective exhibition "Tianguis de Arte" Centro Cultural Mexiquense Bicentenario, piece "fortress" 40 x 60 cms, "Libertad" 80 x 60 cms and "Como lo imaginé". 80 x 120 cms. Art calligraphy (2014, 2015 and 2016)
— Participation as a calligrapher in the practice - workshop "Building the Art" in relation to the exhibition "Between dreams, muses and brushes", in the "Fernando Cano" University Gallery, UAEMéx. (February 2015)
— Participation as a project exhibitor at the International Congress of Philosophy, Art and Design. "Dialogue in the borders". (April 2015)
— Presentation of the exhibition "Dichotomy concausa" Illustration & Calligraphy. Collaboration with Cristina A. Santiago F. School of Architecture and Design (October 2014)
— Participation in the 1st sample of graphic design talents "From analogous to digital". (November 2014)
— Participation in a collective exhibition "Tianguis de Arte" Centro Cultural Mexiquense Bicentenario, Piece "a moment of childhood". Acrylic Technique (2013)