To Russia with art
Paintings by Manohar Desai, a city-based calligraphy artist have made a permanent place at the International Museum of Contemporary Calligraphy, Moscow, Russia. Now, he is among 68 artists from 26 countries, who have achieved a place at the Museum.
A resident of Model Colony and professor at Symbyosis Art College, Desai was the only Indian who participated at the International Calligraphy Exibition in Moscow held between December 9th and 15th, 2008. Desai received appreciation for the demonstration of his work there.
Ten of his paintings have been kept for display in the museum. Apart from that three of his articles on calligraphy have also been included in the museum's documents.
Desai is an alumnus of Abhinav Kala Mahavidyalaya, where he pursued Commercial Art, and dedicated his time to hone his skills in calligraphy. He also completed his professional diploma in Line Art and Colour Study.
Manohar Desai mesmerised audiences with his calligraphy demonstrations in Moscow.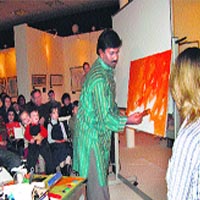 Desai carved his own niche in the world of art in his unique style of composition by rendering calligraphy on canvas. Two of his exhibitions were held at the Jehangir Art Gallery in 2000 and 2004.
Elena Isaeva, coordinator of International Calligraphy Museum, in an email to Pune Mirror said that, "Desai is a representative of the country, which has ancient and prominent calligraphy schools and traditions. The works he presented at the exhibition demonstrate different styles and artistic manners and all of them are colourful and original. He is also a good teacher and actor. We had improvised master-classes and presentations during the exhibition. Desai spoke in common language and was very popular with professional calligraphers as well as schoolchildren and people who saw calligraphic works for the first time in their lives. We are proud to have his works in the Museum."
Desai told Pune Mirror that, "The calligraphy exhibition was organised around the time when the Moscow International Museum of Contemporary Calligraphy was also inaugurated."
Calligraphy is an art of beautiful hand-writing and Desai's stint at the Moscow International Calligraphy Festival was the most memorable one. "The festival, which had representation from over 26 countries was inaugurated with my demonstration," said the artist, whose skill and dexterity of brush-strokes on canvass mesmerised and amazed the audiences there.
He said that, requests from countless art lovers following the live telecast of the inauguration programme on leading television channels in Russia, resulted in three more of his live demonstrations.
He added his paintings depicting the famous rendering of Sant Dnyaneshwar's shloka 'Pasaydan', and Sant Ramdass are among those kept at the museum.
Source: Pune Mirror newspaper