Ornate Performance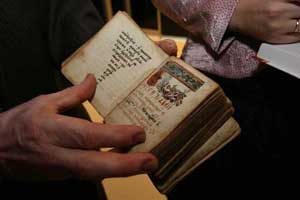 The events that had recently taken place at the International Exhibition of Calligraphy at I.E. Repin St. Petersburg State Academic Institute of Painting, Sculpture and Architecture can be described with a pen, brush or a bamboo stick…
When I first heard the word "calligraphy" I recalled my teacher who was studiously writing something on the blackboard. Then I remembered Chinese hieroglyphs and Old Slavonic initial caps. However, I could never imagine that handwritten signs can describe mood! I couldn't have imagined that if I hadn't visited the exhibition which counted up to 350 calligraphic art works by masters from Europe, the USA, China, Japan, Syria, Mongolia, the UAE, Turkey, India, Australia, Taiwan, Palestine, Jordan, Brasil, Peru, Armenia and Iran.
The show was perfectly organized: white carpets symbolizing blank paper, twilight suggesting a certain mood, burning candles… Even the words on the office door plates were designed in a calligraphic style.
Oriental hieroglyphs, Arabic ligature resembling sand waves in the desert, Old Russian Cyrillic script, thorn-like basketry of Celtic ornaments and cardiogram-like words. And yet, the absolute favourite of the exhibition was the first and only handwritten copy of the Constitution of the Russian Federation, an exquisitely designed folio, the offspring of a group of calligraphers and publishers.
The exhibition also represented the under-studied specimens of Slavonic handwriting, historic manuscripts of different nations, rare documents and letters of the Imperial House of Romanov from the archives of the State Museum of History.
During five exhibition days anyone could try their hand at hieroglyphic writing and create one's own hand-penned-kalam-written masterpiece.
Elena Kozlova
Source: Novosti Peterburga, newspaper