International Exhibition of Calligraphy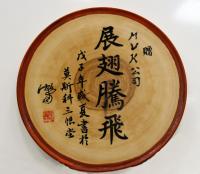 From September 16 to September 21, 2008 you are welcomed at the From September 16th to September 21st, 2008 you are welcomed to the International Exhibition of Calligraphy organized by the joint efforts of the MVK Holding Company and the National Union of Calligraphers.
Calligraphy (Greek "beautiful handwriting") is the art of beautiful and neat handwriting. The Exhibition will bolt together calligraphy writers coming from Russia, Belarus and Ukraine.
For in-depth understanding of the intriguing and multifaceted nature of calligraphy, the organizers are going to display original and second-to-none calligraphy works from Europe, the Baltic States, the USA, Israel, China, Japan, Syria, Mongolia, the United Arab Emirates, Turkey, Australia, India, Taiwan, Palestine, Jordan and Brazil.
Specifically, this is going to be a vast collection of exhibits, including historical manuscripts' samples of various ages and epochs, tools and writing utensils for calligraphy, and a rich collection of specialized books. It is interesting that applied calligraphy will be shown as a comprehensive display of embroidery items and household items featuring calligraphic engraving and printing.
The organizers are planning to deliver a series of master classes by the most prominent and distinct calligraphy writers and a set of lectures with hands-on learning activity both for adults and kids.
Furthermore, in the framework of this Show, the first handwritten copy of the Constitution of the Russian Federation will be presented to the general public. This is a truly unique and unsurpassed project initiated and jointly organized by the National Union of Calligraphers and the Rare Book of Saint-Petersburg Publishing House. The presentation will symbolize the revival of Russia's spirit and recovery of its long-established traditions.
A calligraphy art is a strong personal boost, no matter how old you are!
Address:
I.E. Repin State Academic Institute for Painting, Sculpture and Architecture
17, Universitetskaya Embankment
Source: Japan-Saint-Petersburg, online portal