Hans Maierhofer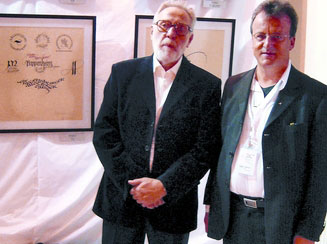 Abroad as an "Ambassador of Calligraphy" of Germany
Hans Maierhofer from Neunburg vorm Wald, an internationally recognized calligraphy expert, was recently invited to an exhibition in Russia.
Pulkovo is the international airport of St. Petersburg, the most European city in Russia in the north of Europe. Hans Maierhofer, a guest from Neunburg arrived there on September 17th for the world's largest exhibition of calligraphy. The city on the Neva is just 17 kilometers away from the international airport. The world-renowned calligraphy expert from Pfalzgrafenstein was met by the team of organizers. Billboards printed in Cyrillic created the first impression of another culture during the trip.

Hans Maierhofer came to the former royal residence at the invitation of Alexey Shaburov, Director General of MVK International Exhibition Company and the Contemporary Museum of Calligraphy, Moscow. Calligraphy, which is not often required in the era of computers, however is a worldwide tradition with deep roots. UNESCO considers calligraphy as a global spiritual and cultural heritage.
For the whole week St. Petersburg was the center of the world of calligraphy. Calligraphers from all over the world were invited to present their works in words and examples. The Academy of Art displayed samples of calligraphy; thousands of visitors attended the exhibition and listened to presentations and demonstrations. During the opening ceremony Maierhofer showed that the violin on stage and a pencil in your hand can play the same music. Before that, he presented the introductory report of the European path of development and demonstrated calligraphy caps of the gothic script (fracture). The honoured guest from Neunburg faced an intense workweek. Every day, early in the morning he went to the Academy to listen to the colleagues' reports, to talk with visitors and to give explanations on the works. However, he still had time to explore St. Petersburg, with its representative buildings, museums and parks.