The World Famous Mezuzah Comes to Moscow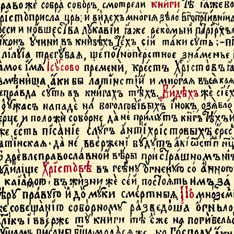 Moscow has seen the opening of a unique exhibition featuring rare handwritten books, calligraphic chefs d'oeuvre, mini-festivals of Japanese, Tibetan, Slavonic cultures; calligraphic master-classes. The exposition, organized by MVK, the International Exhibition Company incorporates works by world-renowned calligraphers from thirty-three countries, such as: Russia, Ukraine, Belarus, Israel, USA, Japan, China, France, Italy, Germany, Australia, Brazil, etc. Here you will find exquisite samples of Slavic and European writing, strict forms of classical Japanese and traditional Chinese writing, subtle inscriptions of Jewish and Arab calligraphy. Beside paintings and rare manuscripts the display can boast of applied calligraphy items, writing utensils and materials.
Special attention should be paid to themed sections representing the writing cultures of various nations, states, and religions, e.g. a World Famous Mezuzah, a recent acquisition of the Contemporary Museum of Calligraphy, the only chef d'oeuvre of sacred Hebrew calligraphy listed into the Guinness World Records, executed on parchment by Avraham Borshevsky, a famous calligrapher of Jerusalem. This is the mezuzah's first public display.
The visitors will also be surprised by the Sacred Chamber, the From Earth to the Universe photo gallery, the framing exhibition, the Flower Room, etc. Every weekend within the Fixed Event Period features master-classes from famous calligraphers: Barbara Calzolari creating the Spenser Script; Nja Mahdaoui throwing his bold strokes of Arabic lettering; graphologist Larisa Drygval studying the relation of personal traits and handwriting. You can study the event schedule at the exhibition's official website. The exhibition will be on through November 14th.
The exhibition is held under the auspices of the Commission of the Russian Federation for UNESCO and the RF Ministry of Culture.