Cardiograms of Passion
After over two decades, veteran painter and graphic designer Sadeq Barirani has set up an exhibition of his artworks, which opens in Tehran on Oct. 26. Bon Art Gallery will host the exhibit featuring his unique and abstract brush calligraphies. The nonagenarian artist will attend the opening ceremony of his solo exhibition, which will be held from 4-8 p.m. On the following days, the gallery is open from 2-8 p.m., ISNA reported.
For about 50 years, Barirani, 94, has allowed the Persian letters to find their way and form on paper, using his self-made paint brush and mystical poetry. He has been capturing unique moments of meditation and excitement. His brush does not hold the paint for long and he has to write or paint fast. On display are a series of abstract calligraphies that are not so illegible. Barirani's works are dynamic and rhythmic. He calls them "cardiograms of passion".
The venue is located at No. 60, Ahmadpour Street, Darakeh neighborhood. Barirani is one of the pioneers of Iranian graphic art and well known for his distinctive poster designs. In his writings/paintings, one can easily notice his individual style, passion and spirituality. Like a Zen calligrapher, Barirani creates swift marks that capture a moment in time, which holds great impact. "His brush strokes possess such energy and sophistication that force the viewer to pay attention to their movements, details, tonalities, variety and authority," art critic and researcher, Roshanak Keyqobadi, said of Barirani's works.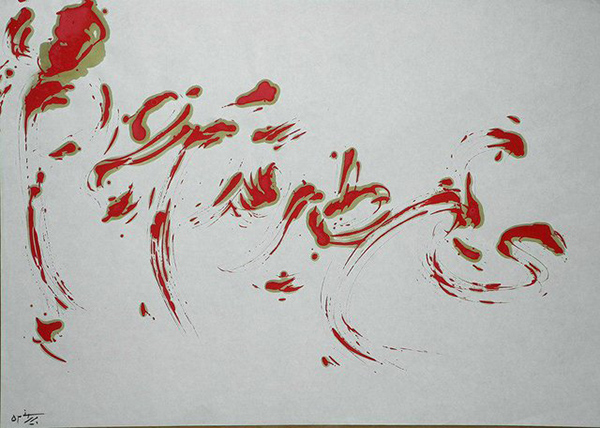 Source: financialtribune.com