Director's welcoming address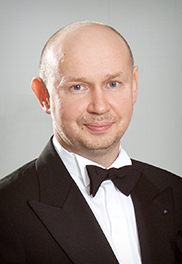 Dear friends!
I am pleased to welcome you at the National School of Calligraphy!
Just a short while ago we offered courses to all those wishing to experience the magical world of calligraphy. Each of our students, learning the high art of depicting letters and words have put into these exercises a personal meaning. One student was looking for skills, a state of balance and relaxation; and another was trying to express the flight of his soul. Indeed, in addition to mastering beautiful and clear writing, calligraphy lessons help set "internal order", clean up ideas, develop inner freedom and discipline, enrich imagination, concentrate attention, as well as adapt us to our stressful world.
Self-confidence, desire, and persistence can work wonders. It all helps students to penetrate the mysterious world where you can hear, understand, and love letters.
We will be happy to introduce you to the intricacies of such a deep and unreasonably forgotten art that embodies the perfect harmony of lines and shapes.

Alexey Shaburov,
Director of the National School
of Calligraphy
Sign up for the course
To register please fill in all fields
You have successfully registered
During the registration an error occurred
Sign up for the course
To register please fill in all fields
You have successfully registered
During the registration an error occurred