Typographic Specimens how an explorer turned letterforms into animals
Hand-drawn typography and calligraphy are masterful skills in their own right – so the ability to turn letterforms into illustrated animals is particularly impressive.
Typographic Specimens: A Natural History of Letterforms is a new book published by Ammonite Press, which documents the illustrations of a 19th century explorer and typography enthusiast.
Reverend Jackson Whitehead was a Christian cleric who provided spiritual guidance for ship crews aboard the HMS Pica and HMS Beagle, which completed a five-year expedition around the world from 1831-1836. Charles Darwin, who came up with the theory of evolution by natural selection, was one of the crew members on board.
When Whitehead realised that most of the people on board were not receptive to his religious teachings, being either atheists or evolutionists, he turned his efforts towards drawing the strange and interesting creatures that he saw on his five-year journey. He used letterforms to illustrate the animals and insects he saw.
In 2016, the intriguing trove of typographic illustrations was found hidden under the floorboards of Whitehead's former house, along with a manuscript of his findings, by his great-great-grandson Andrew Bainbridge.
Bainbridge, who is a designer and graphic communications lecturer at the University of Central Lancashire, has now brought the works of his ancestor to life digitally and compiled them in a book.
The book features 60 specimens, along with extracts from Whitehead's journal, examples of his illustration process, and an adorable index at the back detailing each creature's "typographic DNA" – that is, what letters, numbers and punctuation marks have been used to create each one.
As charming as a bee constructed out of "B's" set in different weights and typefaces is, not all the creatures are as logical as this. Typographic Specimens also features now-extinct animals – a "bearded bamboozle", anyone? – and mythical ones made up of all sorts of letterforms.
The works featured are a delightful and clever exploration of the versatility of type and optical illusion, as well as an insight into the imagination that went into the illustrations, long before the internet was there for inspiration.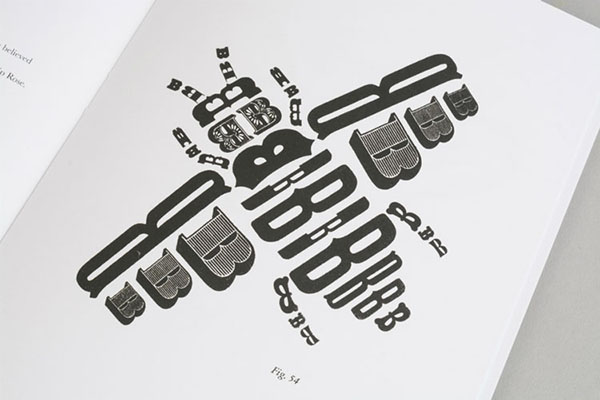 Source: www.designweek.co.uk